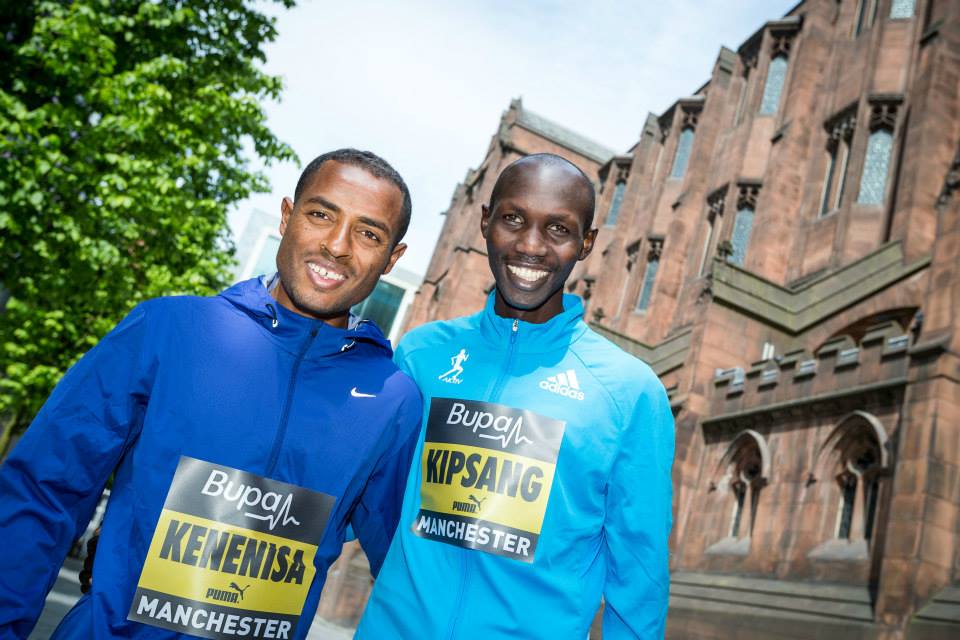 Ethiopians Kenenisa Bekele and Tirunesh Dibaba won the elite men's and women's races at the Bupa Great Manchester Run in the North West of England on Sunday.
Kenenisa Bekele, making his British 10km road running debut, was matched by Kenya's Wilson Kipsang until the closing stages but a late burst of acceleration in the final 400m earned him victory in 28 minutes and 23 seconds.
Wilson Kipsang, marathon world record-holder and winner of the 2014 Virgin Money London Marathon finished second five seconds back while South African's Stephen Mokoko clocked 29:11 for third.
Tirunesh Dibaba, the reigning World and Olympic champion at 10,000m from Ethiopia, earned a comfortable victory in the women's competition, finishing the 10km course in 31:09 ahead of Britain's Gemma Steel (32:10) and Kenyan Polline Wanjiku Njeru (32:10)
The 28-year-old Ethiopian time of 31:09 was some way off the 30:49 course record she set when winning the Bupa Great Manchester Run last year.
The 2014 Bupa Great Manchester Run started in Portland Street, near the junction with Oxford Street, before heading out toward Old Trafford and back to the city centre with a triumphant finish on Deansgate.
Selected Results
Men:
Kenenisa Bekele (Ethiopia) 28:23
Wilson Kipsang (Kenya) 28:28
Stephen Mokoka (South Africa) 29:11
Ayad Lamdassem (Morocco / Spain) 29:17
Abdellatif Meftah (Morocco / France) 29:18
Nick Mccormick (Morpeth Harriers) 29:21
Women:
Tirunesh Dibaba (Ethiopia) 31:09
Polline Wanjiku (Kenya / Run Fast) 32:10
Gemma Steel (GBR / Charnwood AC) 32:10
Christelle Daunay (France) 32:20
Ana Dulce Felix (Portugal) 32:54
Helen Clitheroe (GBR / Preston Harriers) 33:21
Copy/Share Link: https://on.athletics.africa/WEu9T