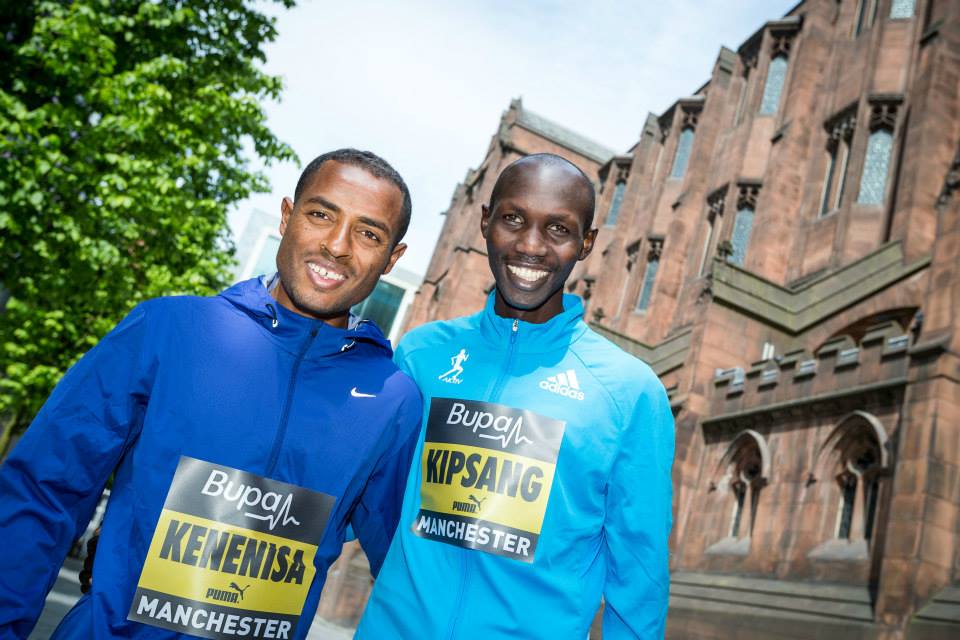 Ethiopians Kenenisa Bekele and Tirunesh Dibaba won the elite men's and women's races at the Bupa Great Manchester Run in the North West of England on Sunday.
[link id="220" tax="post_tag" text="Kenenisa Bekele"], making his British 10km road running debut, was matched by Kenya's Wilson Kipsang until the closing stages but a late burst of acceleration in the final 400m earned him victory in 28 minutes and 23 seconds.
[link id="299" tax="post_tag" text="Wilson Kipsang"], marathon world record-holder and [link id="7998" text="winner of the 2014 Virgin Money London Marathon"] finished second five seconds back while South African's Stephen Mokoko clocked 29:11 for third.
[link id="249" tax="post_tag" text="Tirunesh Dibaba"], the reigning World and Olympic champion at 10,000m from [link id="82" tax="category" text="Ethiopia"], earned a comfortable victory in the women's competition, finishing the 10km course in 31:09 ahead of Britain's Gemma Steel (32:10) and Kenyan Polline Wanjiku Njeru (32:10)
The 28-year-old Ethiopian time of 31:09 was some way off the 30:49 course record she set when winning the Bupa Great Manchester Run last year.
The 2014 [link id="77" tax="post_tag" text="Bupa Great Manchester Run"] started in Portland Street, near the junction with Oxford Street, before heading out toward Old Trafford and back to the city centre with a triumphant finish on Deansgate.
Selected Results
Men:
Kenenisa Bekele (Ethiopia) 28:23
Wilson Kipsang (Kenya) 28:28
Stephen Mokoka (South Africa) 29:11
Ayad Lamdassem (Morocco / Spain) 29:17
Abdellatif Meftah (Morocco / France) 29:18
Nick Mccormick (Morpeth Harriers) 29:21
Women:
Tirunesh Dibaba (Ethiopia) 31:09
Polline Wanjiku (Kenya / Run Fast) 32:10
Gemma Steel (GBR / Charnwood AC) 32:10
Christelle Daunay (France) 32:20
Ana Dulce Felix (Portugal) 32:54
Helen Clitheroe (GBR / Preston Harriers) 33:21
Copy/Share Link: https://on.athletics.africa/WEu9T