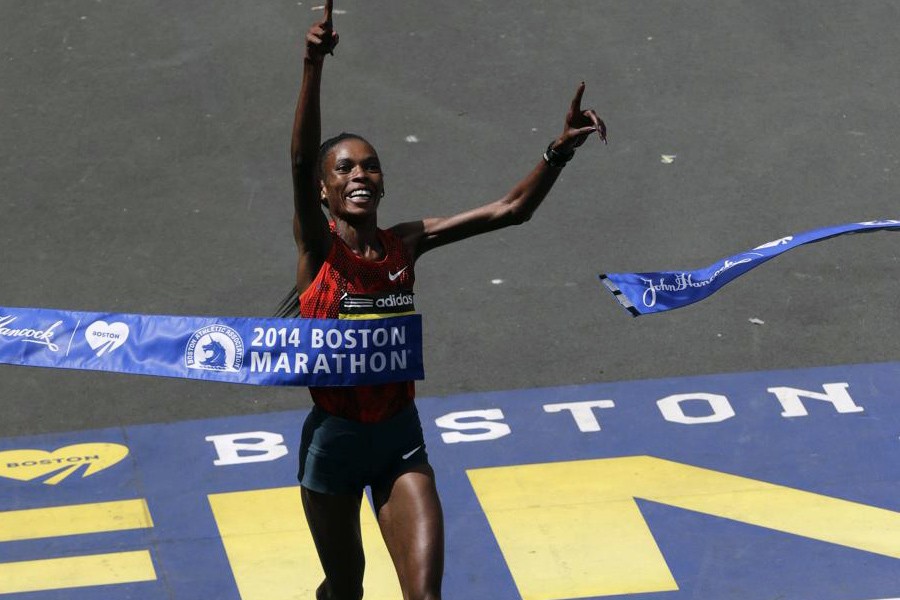 Kenya's Rita Jeptoo successfully defended her Boston Marathon title on Monday with a course-record 2 hours, 18 minutes and 57 seconds.
The 33-year-old Kenyan star became the seventh three-time Boston Marathon champion and finally was able to celebrate, after a race she said she could not enjoy a year ago after the fatal bombings.
Jeptoo, who was chasing her third victory here after wins in 2006 and 2013, broke away from a group of five runners at the 23-mile mark, then promptly blistered a 4:48 mile to shatter the course record of 2:20:43 set by Kenya's Margaret Okayo in 2002.
Ethiopians Buzunesh Deba and Mare Dibaba, also broke the previous record by finishing in 2:19:59 and 2:20:35 respectively. Even the woman who came in fourth, Jeptoo's training partner Jemima Jelagat Sumgong, broke the mark with her time of 2:20:41.
Overall, the top 10 female finishers all ran the fastest time for place in the history of the Boston Marathon, with American Desiree Linden's 10th-place time of 2:23:54 more than three minutes ahead of the previous fastest time recorded for that spot.
Rita Jeptoo later complained that she was not feeling well at the start of the race.
"My body was not responding well," she said. "Today was like fire when we were starting. I was like somebody not ready to run this pace."
Ernst Van Dyk of [link id="217" tax="category" text="South Africa" target="_blank"] won the men's wheelchair division of the 118th Boston Marathon in a time of , his 10th victory in Boston.
Leading Results:
Wheelchair Division
Top Men
1.     Ernst F. Van Dyk     RSA   1:20:36
2.     Kota Hokinoue     JPN     1:21:14
3.     Masazumi Soejima   JPN     1:21:14
Top Women
1.     Tatyana McFadden     USA     1:35:06
2.     Wakako Tsuchida     JPN     1:37:24
3.     Susannah Scaroni     USA     1:38:33
Elite Division
Top Women
1.    Rita Jeptoo     KEN     2:18:57
2.    Buzunesh Deba  ETH     2:19:59
3.    Mare Dibaba     ETH     2:20:35
4.     Jemima Jelagat Sumgong     KEN     2:20:41
5.     Meselech Melkamu     ETH     2:21:28
6.     Aleksandra Duliba     BLR     2:21:29
7.     Shalane Flanagan     USA     2:22:02
8.     Sharon Cherop     KEN     2:23:00
9.     Philes Ongori     KEN     2:23:22
10.   Desiree Linden     USA     2:23:54
Top Men
1.     Meb Keflezighi     USA     2:08:37
2.     Wilson Chebet     KEN     2:08:48
3.     Frankline Chepkwony  KEN  2:08:50
4.     Vitaliy Shafar     UKR     2:09:38
5.     Markos Geneti     ETH     2:09:50
6.     Joel Kimurer     KEN     2:11:03
7.     Nicholas Arciniaga     USA     2:11:47
8.     Jeffrey Eggleston     USA     2:11:57
9.     Paul Lonyangata     KEN     2:12:34
10.    Adil Annani     MAR     2:12:43
Copy/Share Link: https://on.athletics.africa/Hfqsy