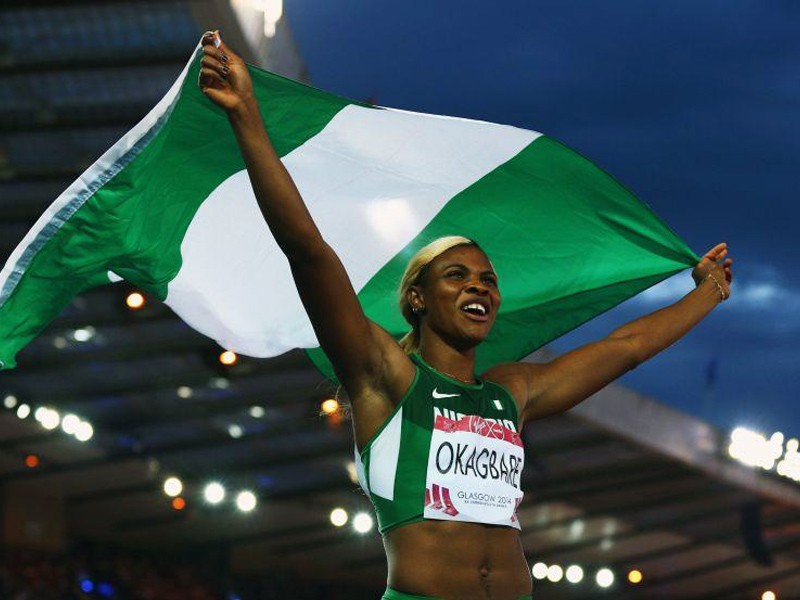 Blessing Okagbare dominated a quality field to give [link id="5" tax="category" text="Nigeria"] her first Athletics gold medal of the [link id="242" tax="am_event_categories" text="XX Commonwealth Games"] in Glasgow, Scotland on Monday.
The 25-year-old with her long, shock of blonde hair was the only athlete to go under-11 seconds, clocking a 10.85 secs Games record the 12-year record of 10.91 secs set by Bahamas' Debbie Ferguson in Manchester 2002.
Jamaicans Veronica Campbell-Brown and Kerron Stewart settled for the minor medals running 11.03 and 11.07 for silver and bronze medals respectively
[link id="158" tax="post_tag" text="Blessing Okagbare"], the Olympic long jump bronze medallist, became only the second African to win the women's 100m title since her countrywoman Mary Onyali-Omagbemi won in Victoria back in 1994.
Although she's registered for a total of four events at Glasgow 2014, Okagbare only has her mind set on winning the 100m, 200m and 4x100m relay and might not compete in the Long jump.
After the race, she said: "The crowd was amazing. Winning gold here takes the pressure off a little but doesn't mean I sit down and not do any more. I still have to work hard and stay on top of my fitness.
"It's actually my first Commonwealth Games. I want to win. Everything in my preparation has been really based on the Commonwealth Games. It's kind of like an off year, but at the same time I just wanted to come here and put on a good show."
"I have the 200m and relay to come. As for the long jump, I'm not sure about that," she added.
In the men's 100m race, Nigeria's [link id="480" tax="post_tag" text="Mark Jelks"] finished in a decent fifth position in 10.17 secs, and [link id="11" tax="category" text="South Africa"]'s Fanie Van Der Merwe won the Men's Para-Sport 100m - T37 gold in 11.65 secs.
Selected Results
Women's 100m Final
Blessing Okagbare Ngr 10.85 GR
Veronica Campbell-Brown Jam 11.03
Kerron Stewart Jam 11.07
Asha Philip Eng 11.18 PB
Schillonie Calvert Jam 11.21
Bianca Williams Eng 11.31
Khamica Bingham Can 11.37
Gloria Asumnu Ngr 11.41
Men's 100m Final
Kemar Bailey-Cole Jam 10.00
Adam Gemili Eng 10.10
Nickel Ashmeade Jam 10.12
Antoine Adams Skn 10.16
Mark Jelks Ngr 10.17
Jason Livermore Jam 10.18
Warren FRaser Bah 10.20
Raymond Gittens Brb 10.25
Men's Shot Put Final
O'Dayne Richards Jam 21.61m GR
Tom Walsh NZ 21.19m
Tim Nedow Can 20.59m
Orazio Cremona RSA 20.13m
Damien Birkinhead Aus 19.59m
Women's Hammer Throw Final
Sultana Frizell Can 71.97m GR
Julia Ratcliffe Nzl 69.96m
Sophie Hitchon Eng 68.72m
Sarah Holt Eng 65.67m
Men's Para-Sport 100m - T37 Final
Fanie Van Der Merwe Rsa 11.65
Charl Du Toit Rsa 11.89
Rhys Jones Wal 12.04
Anrea Ave Dalle Rsa 12.39
Copy/Share Link: https://on.athletics.africa/7qa2S