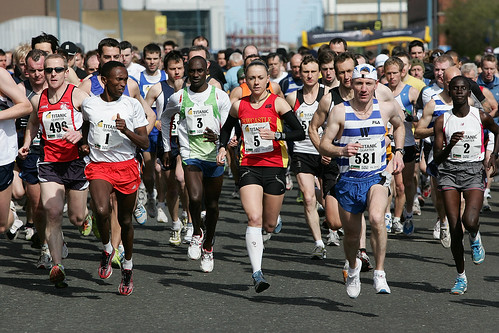 Ethiopia's Ayele Mergessa has won the men's race at the 2nd Titanic Quarter 10k (TQ 10Km) on a windy Sunday afternoon in Belfast, Northern Ireland.
Despite the poor weather conditions, over 600 runners finished the 10k race which started from Queen's Road, through a historical waterfront route including Airport Road and Sydenham Road. Mergessa sped on to victory in 31 minutes and seven seconds.
Kenyan Raymond Tonui took second place in 31.12 seconds and Ireland St Malachy's AC runner Kevin Seaward settled for third place in 31.40 seconds.
However Newcastle AC runner Kerry Harty pulled a surprise win in the women's race by beating Kenyan favourite Joyce Kandia.
The Newcastle athlete pulled away from the Kenyan star in the final kilometre to win in 36 minutes and six seconds. Kandia had to settle for second in 36:24 seconds, whilst North Belfast's Breege Connolly was third in 38.04 seconds.
The Titanic Quarter 10k is open to elite and international competitors as well as local runners, ranging from beginners to experienced athletes.
The event was organised by Athletics Northern Ireland and sponsored by Titanic Quarter, Port of Belfast and the Streat Cafe.